Wrist Coil Keychains | Wrist Coils As Low As .29 With Key Ring
Wrist Coil Keychains
Wrist coils are flexible spiral plastic key holders. They are colorful and convenient and due to their nature, one size fits all. Every single wrist coil comes with an attached split ring key holder for your convenience. Approximately 2″ round outside diameter.
Keep your keys organized on your wrist! Multiple color wrist coils make great organizers.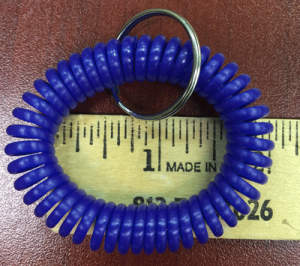 Prices as low as 29¢
Bulk Wrist Coil Pricing
Mix and Match any colors. Discounts show in cart.
Free Shipping over $50
Wrist Coils, err Wrist Keychain, or…
There are 100 names for wrist coils, its hard to advertise for these things. Some names drop the 'wrist' for people that think outside the box I guess: coil keychains, coil bracelet, coil key ring, key coil. Acknowledging the most common location: coil wristband, wrist bracelet coil, wrist keychain. There is every variation of coil, wrist, key, keychain, ring, bracelet, spiral, curly. We like plastic wrist coil or wrist coil with key ring.

Product Safety: Don't gift one of these and call it a bracelet.

Wrist key holders now come in cool metallic colors